After spending more than $10,000 on Korean skincare products in the last couple of years.
I found that some products worked better than others. BUT the ones with Niacinamide showed even better results.
Niacinamide is known to brighten your skin very quickly, but which serums work and which ones don't?
In this article, you'll learn about the best Korean Niacinamide serums on the ENTIRE market.
Let's get started.
The 8 Best Korean Niacinamide Serums
1. COSRX AC Collection Blemish Spot Clearing Serum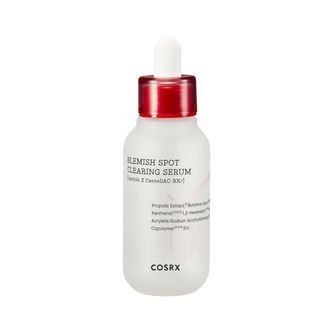 Getting to your perfect skin is something that takes time. It won't happen overnight so that's very important to remember. However, with this serum, you'll see the results almost instantly.
This is by far the best Korean niacinamide serum on the entire market.
The serum works for acne-prone, dry, and oily skin. it doesn't matter what kind of skin type you have. This will definitely do it, plus it's very lightweight.
The texture flows like water on your face. What I like about this serum is that it isn't sticky at all. Compared to other serums I've tried in the past (which were sticky) this one feels like a life changer for me.
You don't even need to use it very long to see results. You'll see results within days.
Better, smoother, and lighter skin. That's what you can expect from this serum. With over 323+ real reviews. I've tested hundreds of different skincare products and trust me.
There are no products that come even close to this. So are you about to wake up without worrying about a swollen face? This is it.
---
2. Beauty of Joseon Glow Serum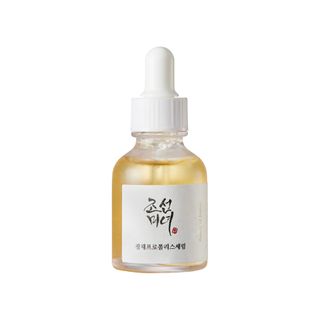 Looking for the best Korean niacinamide serum for dry skin? This is a must-have. I've been testing multiple different products for specifically dry skin and this is what made my skin smoother than ever.
Say goodbye to irritated skin with this serum. Even K-pop idols use this one because it's that good. Most people start using it because of celebrities, but they stay using it because of results.
The serum feels very thick which helps keep the skin moisturized for a very long time. The small bottle itself lasts about 2 to 3 months when used daily.
This is a huge plus because other serums will last one month at most. So are you looking to save money and get the best possible skin?
Or do you want to waste your money, time, and energy on products that will never work?
That's up to you but if you were asking me. I would have bought a stock for the entire year. (these products tend to go out of stock very often).
So just to be safe I'd recommend buying 2 or 3 bottles. Especially if you have an uneven skin tone this is a must. It shows results within a couple of uses and that's considering you have pretty pale skin already.
---
3. NEOGEN Dermalogy Real Vita C Serum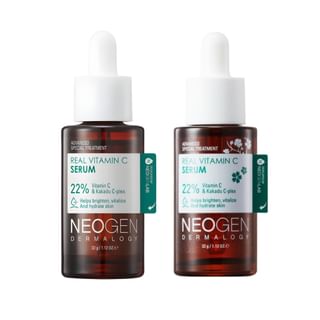 NEOGEN. You've probably heard about this. This is the best Korean budget niacinamide serum. The results are quite similar to the ones above but slightly slower.
However, for the price, you can't really complain because it works. Other serums that I've tried in the past never seemed to work. This niacinamide serum works very well for sensitive skin and all other skin types.
I've recently added it back into my skincare routine because it was cheaper than my previous serum. And as a result, my skin is looking much better now.
Your enlarged pores, dead skin cells, and acne scars will disappear in no time. The best part about this product is that it's very affordable. It has a small price tag and you can get results without burning a hole in your pocket.
So if you're on a tight budget this is the one I recommend the most. It's very lightweight and it smells amazing. How can you say no to that?
It's even worth it to add as a double serum.
Using two different niacinamide serums is sometimes even better than one. This is because it helps target all your skin problems.
---
4. Formotopia BFFECT Niacinamide 10%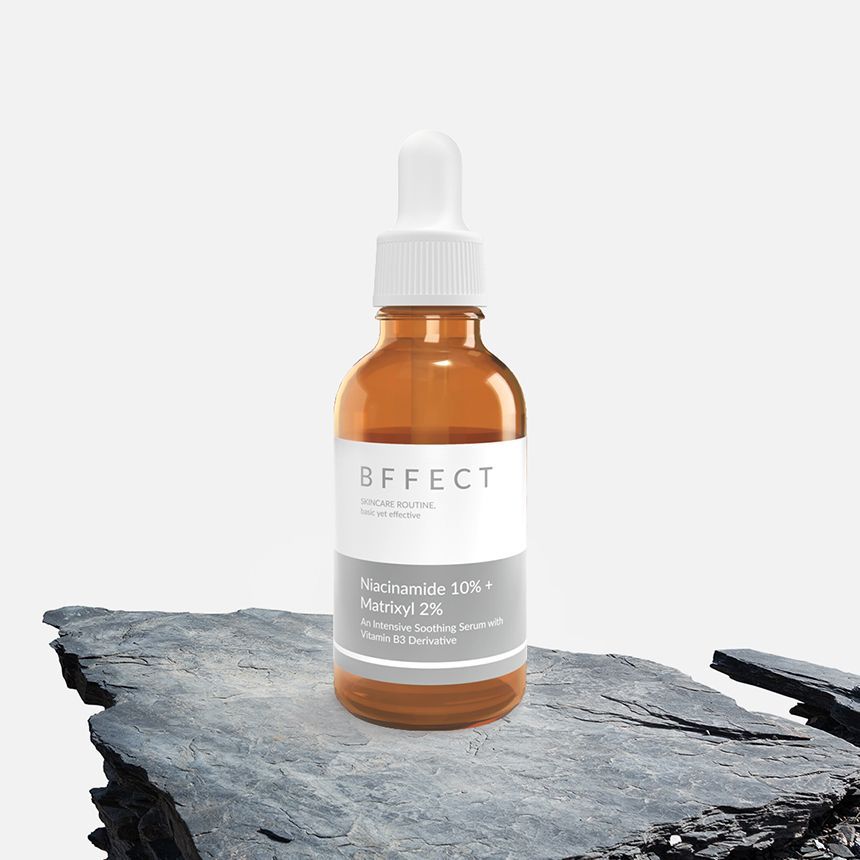 Looking to get soft and smooth skin FAST? This is the best Korean niacinamide serum for soft skin.
Do you see it already, waking up with perfect skin like the K-dramas. This serum has 10% niacinamide which is the highest I've ever seen.
A high concentration will help you get rid of wrinkles, scars, and acne within days. You'll notice results even faster than with regular serums.
It also works extremely well for people with sensitive skin types. Many of my friends have sensitive skin and this brightens it up nicely.
What I like about this serum is that it will break your skin barrier, removing even more dryness.
It's a little bit pricey but the results are insane. If you haven't been using this already, you're really missing out.
If you'd rather waste your time and money on other products. That's your own choice, but if you won't see any progress in the next couple of YEARS.
You know why…
I can assure you that the majority of people that use this are extremely happy with the results.
So if you're looking for the best Korean niacinamide serum for soft and sensitive skin, this is it
---
5. PURITO Galacto Niacin 97 Power Essence
Getting brighter skin is what everyone wants but is it something that everyone can get? Well, if you've had no success with other serums so far.
This is it. This niacinamide serum will brighten your skin in a few days.
Yes, that's how easy it is. Fine lines and wrinkles, begone!
I've used tons of different products and still to this day. This is the one I use regularly. The serum is highly concentrated to deliver results like no other.
It smooths out your skin and gets rid of any acne scars that you may have. The best Korean niacinamide serum for wrinkles.
Some ingredients that will hugely benefit your skin are leaf extract, and hyaluronic acid. Other than that it has niacinamide of course.
The ingredients also help with collagen production which will make your skin look softer.
It's extremely lightweight which makes it one of the best serums. Haven't tried it yet? You are missing out, big time!
---
6. RNW DER. CONCENTRATE Niacinamide Plus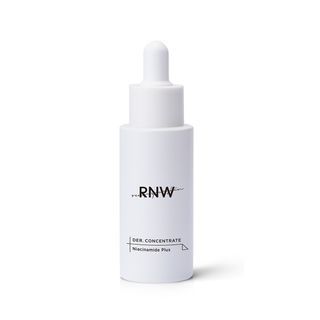 Looking for a serum that helps with sensitive skin. This is the one you must try. I've been trying out hundreds of different kinds of serum in the last few weeks.
Only to find out that this is by far the best niacinamide serum for sensitive skin. You don't have to deal with skin irritation again which is a huge benefit.
Getting it into your regular skincare routine is very easy. It's another lightweight serum that will make you love it even more.
The ingredients are very high quality and they help with skin damage, acne-prone skin and will protect your skin for a very long time.
Compared to other serums, this one also prevents dull skin. So if you're looking for something to get rid of dullness it's another plus.
Even better? It has over 1,103+ reviews with at least 4.5 out of 5 stars.
You don't see that very often these days. Especially since the skincare industry has more products a couple of years ago.
I can assure you that this is the best Korean niacinamide serum for acne and sensitive skin, AND it's very very affordable.
---
7. CARE:NEL Niacinamide Zinc Serum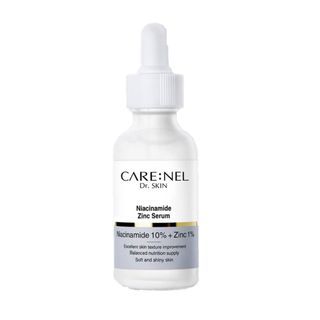 Do you have problems with normal skin? Irritation, acne, or skin sensitivity. This serum has the perfect ingredients to fix all of that.
Formulated with pure niacinamide, this serum is 100% natural and effective. It's a great way to replenish your skin with minerals and vitamins.
It also has a texture that's easy to apply and doesn't irritate the skin at all. Only a small amount will do the job for your whole face.
You can prevent aging with this serum, making it one of the best anti-aging products on the market. It also reduces dark circles and puffiness. So you're basically getting a serum that helps with everything.
I highly recommend this if your skin doesn't feel soft enough. There's only a few serums that get the job done like this one.
As you can see, I've used (and still using) this serum for a very long time.
It's by far the best Korean niacinamide serums for normal skin.
But if you want to try another serum (which will never work), that's up to you. The choices you make today will have a huge impact on the future.
Because in order to get the best skin possible. You need to invest money in good products that actually work, I've tried a lot of them and this one is the best niacinamide serum.
---
8. iUNIK Black Snail Restore Serum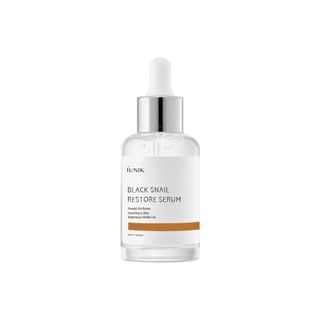 Having a bit of all types of skin problems. Also called combination skin. This serum will definitely help you solve that problem.
I've seen tons of products that are suitable for oily skin, but hardly any for combination skin. That's why this serum is unique.
The serum is enriched with black snail extract that will get rid of any scars or marks on your skin.
It also prevents dryness which is another problem that combination skin has.
Getting glass skin is possible with this serum, making it the best niacinamide serum for combination skin. it has great antioxidants and will get rid of all the toxins.
Since it also helps with oiliness, this serum is suitable for all seasons
It doesn't matter whether it's summer, winter, or autumn. Your skin has a very hard time dealing with all types of seasons.
But with the help of this serum, it will be easier than ever before.
If you were asking me…
I would have bought multiple serums from this brand (it goes out of stock very often). So to be sure I have enough stock, I highly recommend getting multiple serums.
Also works out cheaper that way and you can use it for a longer period of time.
---
Buyer's Guide: Korean Niacinamide Serum
This is the only buyer's guide you need for Korean Niacinamide serums.
How to choose the best Korean serum for your skin type?
Choosing the best Korean serum for your skin type is not easy. Even though, there are hundreds of brands that claim they offer the best products on the market.
But that's only false advertising, which happens all too often these days. There are some things you should look out for if you're looking for a good niacinamide serum.
If you have combination skin, then look for a serum that focuses on your needs. It should contain niacinamide AND other ingredients to help with oiliness and dryness
I know it sounds very confusing but you don't have to worry about anything anymore. Go back to the list above and check which one suits your skin type.
What's the best way to use a Korean serum?
The best way to use a Korean serum is by applying it to a clean face. Make sure you have no makeup, dirt, or oil on your skin. This is very important since most serums will not work with those things present.
Also, using this product in the morning and at night is the best way to get results fast. So don't hesitate to use a Korean serum every day.
How often should you use a Korean serum?
Every single day.
Korean serums are very effective and will get results if you use them every day. If you're using a serum to solve a problem (like acne, dark circles, or wrinkles). Then make sure to use it every single day for the best possible results.
It doesn't matter whether it's morning or night, because this product works from the first second.
What's the difference between a niacinamide serum and a regular serum?
A niacinamide serum helps regulate sebum production and will clear your pores.
Regular serums don't do that and contain acids or retinol. You should be able to find a niacinamide serum in almost every skincare brand.
Frequently Asked Questions
These are frequently asked questions answered by experts.
What Is the Best Korean Niacinamide Serum?
The best Korean niacinamide serum is the COSRX AC Collection Blemish Spot Clearing Serum. This product is a combination of niacinamide and other ingredients that help combat oiliness.
The other serums don't even come close to this product. Which makes it by far the best one on the entire market.
What Are the Benefits of Using a Korean Niacinamide Serum
The benefits of using a Korean niacinamide serum are fewer blemishes, your pores are clearer, and it gives you balanced skin. Most of these benefits will be seen in the first couple of days.
However, for some people, it will take a bit longer to see the full benefits of using this product. But on average, you can expect results in 2-3 weeks.
Conclusion
The best serum by far is the COSRX AC Collection Blemish Spot Clearing Serum. It reduces pores, helps with blemishes, and evens out your skin.
The ingredients are a perfect balance of niacinamide and other beneficial ones that help with all skin types. You should also get multiple serums, for the best possible results and because it will save you some money in the long run.
Read more on TheKoreanGuide