The COSRX Snail Essence is by far one of the best investments I've ever made. Prevent dry skin within weeks by only using this product.
Knowing it can be quite tricky to find the best skincare product, for me, it's definitely worth a shot. My skin has never been this smooth, strong, and glowing. Throughout my years I dealt with acne scars, dry, and oily skin. But when I started using this essence it all changed.
I think it's the Snail Mucin that made the biggest difference for my skin. But when used daily it can get quite expensive, so chances are it might not be worth it for you.
I've used this essence for 2 years, including switching out different types of the essence. This was done to see if this was actually working or just a scam. In this COSRX Snail Essence Review for 2023 I'll cover:
What is the COSRX Snail Essence?
Why did I start using it
The features no one talks about
Counterfeits, fakes, and replicas
The pros and cons
Alternatives to COSRX Snail Essence
Note: I have actually bought and used this product. Most other reviews I've read are there to promote the product just to make money. Unlike them, I share my personal experience and thoughts.
Now it's ready to dive right in.
COSRX Snail Essence Review and My Personal Experience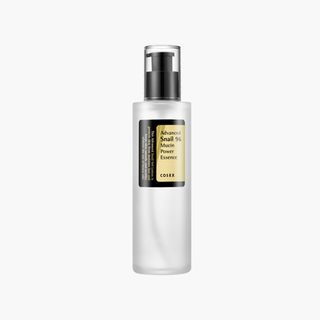 ---
The COSRX Snail Essence is by far the best Korean skincare product I've used in a very long time. In 2023 alone I spent over $5,320 on beauty products already.
And it's not something to brag about, however, I can definitely say this works. It contains 96% snail secretion filtrate which is scientifically proven to improve acne-prone skin, sensitive skin, and all other skin types.
Based on this study you can see that snail mucin benefits the skin faster than others. [1]
In theory, someone with little to no experience with Korean skincare products can see massive results. I saw better results fast and so have others:
I'm not saying that this will work for everyone, but it's still worth giving it a shot. Despite the huge success with this product, some still give it negative feedback.
But from the majority of people, YES. This is it.
It is worth the money if you're serious about improving your skincare routine. It's no quick fix, but you'll definitely see improvements.
So how did I fix my dry skin in a few weeks?
The first few weeks went without any problems. I noticed small improvements bit by bit.
It was no life-changer. But day by day I used this every morning at 7 AM right before class and also before bed.
Doing this every day created a routine, which I loved. This routine kept me consistent with this product. I read somewhere that 99% of people that use Korean skincare consistently see better and faster results.
So that's why I kept using this. But that's when I saw an improvement in my skin. After exactly 16 days my skin was glowing.
Everyone in my friend group asked what I used and how I did it. Well… I said.
It's the COSRX Snail Essence that did all this. ALL THIS?
Yes, read that again.
After that, It was all good. My skin was looking better every day and I loved it. Every time I looked at my skin in the mirror, I fell in love again with my smooth skin.
Why I was skeptical at first but decided to give it a try
Why I was skeptical at first is because there were many people saying it didn't work. However, I decided to trust my gut feeling and give it a go.
It didn't make sense for the product to have over 6,000 5 star reviews. So after buying it from Yesstyle (my favorite Korean skincare store).
You know that feeling when you buy something and go to forums or Reddit to read reviews.
Yes… that's what I did too.
That made me really nervous about the COSR Snail Essence, however, I just started using it. Giving me insanely smooth skin.
Let me put it this way, the Snail Essence is a life-changing product, but it takes time. Don't be that person that uses a skincare product for a week and concludes it as a dud.
It's not the product but how long you use it for that matters. Though it's important to stop instantly if you see any irritation or redness.
Extra Features no one talks about
Using this product will prevent dry skin very fast. But I found some extra features that massively benefited my skin. These are:
Stretchier skin (yes I know it sounds weird)
More energy
Pleasant fragrance
More energy sounds pretty weird, right? Well, It's because my confidence skyrocketed. If you have perfect glass skin, it'll give you that extra energy boost you've been missing.
So chances are the snail mucin essence is worth giving a shot. Don't be scared and trust your own feeling. This will change your entire outlook on Korean skincare.
Beware of buying counterfeits/fakes/replicas
Beware of buying counterfeits. I bought many fakes in the past from certain stores I can't mention.
But to make sure you buy from a safe and legit store, I recommend Yesstyle. I am a regular of theirs since 4 years ago and have never had any problems with them.
It has the best customer care and they have many products like acne patches, cleansers, and even monthly discounts.
Note: using counterfeits may cause enlarged pores, pimples, and negative side effects.
Pros and Cons
Pros
Includes snail slime which is proven to improve skin
Possible to see results within two weeks
Easy to use and very affordable
Cons
Does not work for everyone
Some people experience a bad reaction
Final Thoughts
After using the COSRX Advanced Snail Essence my skin has been smoother than ever. I highly recommend using this. It has many ingredients that keep moisturizing your skin.
Never worry about dry skin, acne-prone skin, or allergic reactions again. It's by far the best Korean skincare product I've ever tried.
---
COSRX Snail Essence FAQ
Does The COSRX Cause Breakouts?
No, 99.99% of people that use the COSRX product line don't experience breakouts or irritation after using it. However, there is always the 0.01% that do see breakouts. And If you do see any redness or swelling stop use straight away.
How Often Should You Use the COSRX Snail Essence?
You should use the COSRX Snail essence daily. Sometimes I would even use it 3 times a day, once in the morning, at night time, and after taking a shower.